Sister of dead soldier Gregg Stone to be charged over crash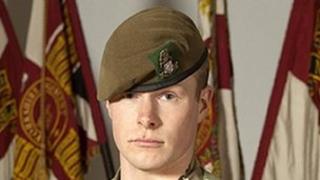 The sister of a soldier killed in Afghanistan is facing accusations she caused her sister's death in a crash.
Rosie-Ann Stone was driving on the A165 in East Yorkshire in February when her sister Jennie, 28, crashed her own car into a tree on the same road and died.
Miss Stone, 20, is to be charged with causing death by careless driving and driving without due care and attention, the Crown Prosecution Service said.
The crash happened months after Gregg Stone, 20, died in Helmand province.
The sisters were driving in separate vehicles when the accident happened.
'Incredibly emotive'
The Crown Prosecution Service said Rosie-Ann Stone had also been reported for summons for driving without due care and attention.
A spokesman said it was aware of the "incredibly emotive circumstances" of the case but its lawyers had decided there was sufficient evidence and it was in the public interest to prosecute.
He said: "To make this decision we have sought the views of all parties including the Stones' family and Jennie's immediate family.
"Taking into account all of the information available to us at this time, we have concluded that it is in the public interest to prosecute Rosie-Ann and have advised Humberside Police to report her for summons."
Pte Stone was shot dead during a mission to rescue a kidnapped policeman from insurgents in June 2012.