Boy quizzed after 'tormenting' Cleethorpes donkeys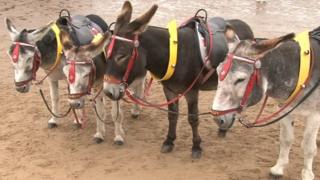 A teenage boy has been spoken to by police after "annoying and tormenting" donkeys on Cleethorpes seafront.
Complaints about anti-social behaviour had been made by shopkeepers about the un-named 13-year-old from Grimsby.
Police said their inquiry was separate to a previous series of incidents in which donkeys were attacked at the country park at Humberston.
Officers still want to trace a teenage boy over those incidents, in which donkeys were kicked and punched.
Officers said the 13-year-old's mother had "ensured that he was suitably punished for his actions".
No further police action is planned relating to the boy
But a £1,350 cash reward has been offered to find those responsible for attacking two donkeys at Humberston park, a business owner has said.
John Nuttall had said he may stop donkey rides at Cleethorpes beach after they were "kicked in the face, put in headlocks and hit with wood".
He said he was now rethinking this decision because of the huge amount of support from people across the world.
Cash for a reward has been offered by five people in the hope it will lead to an arrest and conviction.