Hull's first free school opens doors to students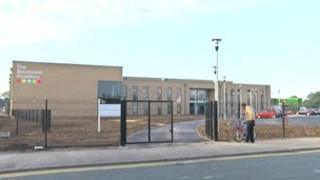 Hull's first free school has opened its doors to its first intake of 43 students, despite opposition from teaching unions.
The £8m Boulevard Academy is built on the site of the former Hull FC rugby league ground.
It is independent of local authority control and funded directly by central government.
One teaching union described free schools as "privatisation through the back door".
The school will eventually house 600 pupils and will offer students a chance to study for the English Baccalaureate qualification.
It will have a longer school day and an extra two weeks on the school year.
The school's principal Andy Grace said the academy would have a "strong emphasis on academic attainment".
Mr Grace said there would be a focus on "literacy and numeracy".
Privatisation fears
"The skills that are needed to to secure these young people a career in the future," he added.
Teaching unions have opposed the introduction of free schools by the government.
Adrian Joyce, local secretary for the NASUWT union, said the money given to free schools should be invested in local state schools.
"Free schools are private people putting money into the education system," he said.
"They are breaking up the control and support of the local community and local education authorities in education.
"It's privatisation through the back door."