Visitors to Hull sickness bug pool urged to do survey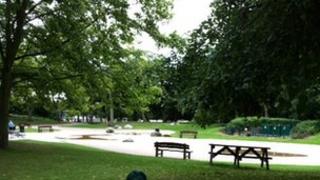 Visitors to a children's paddling pool at the time it was hit by a sickness bug outbreak are being asked to contact Hull City Council.
Eighteen cases of cryptosporidium infection were found among visitors to East Park in Holderness Road between 1 July 1 and 2 August.
Public Health England said it was "very important" people who visited completed a health survey.
The council and Public Health England are investigating the outbreak.
The paddling pool was temporarily closed after the outbreak of the bug, which can cause diarrhoea, stomach pain, vomiting and fever.
Dr Simon Padfield, of the Public Health England centre in Yorkshire and the Humber, said: "It's very important that people who visited East Park between 1 July and 2 August complete the questionnaire whether they were ill or not.
"This will help us to understand how people are using the park and what factors may have contributed to some people becoming unwell but not others."