Grimsby docks: £26m river terminal opened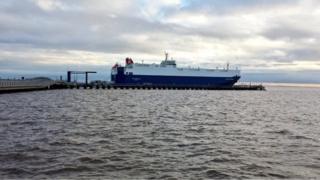 A £26m river terminal has been officially opened at Grimsby docks, meaning more imports can be handled at the UK's busiest car-handling port.
Previously, the lock gates at Grimsby meant only ships carrying a maximum of 800 vehicles could be handled there.
But two new jetties, funded by the docks' owners, Associated British Ports (ABP), mean boats carrying up to 3,000 vehicles can now be processed.
The Port of Grimsby currently handles about 500,000 vehicles every year.
'World class'
The new terminal on the River Humber is the single biggest investment project carried out at the port in over 160 years, said ABP.
Taking 18 months to construct, the new jetties mean specialist car-carrying vessels no longer have to access the docks through the 161-year-old Royal Lock.
John Fitzgerald, ABP port director for Grimsby and Immingham, said the official opening of the new river terminal was "a momentous day".
"What we needed to do as an operator was to build world class marine infrastructure. It was the right thing to do," he said.
The Port of Grimsby handles vehicles from major global manufacturers including Volkswagen, Toyota, Peugeot Citroen and Suzuki.
Matthew Bowden, Volkswagen's head of of vehicle planning and logistics, said the new terminal would play a critical role in the firm's UK operations.
"The quicker we can get vehicles here the quicker we can get them to our dealers and customers," he said.