North Lincolnshire emergency flooding fund set up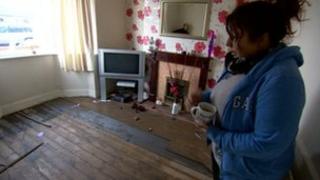 A £100,000 emergency fund has been set up to help people affected by flooding in North Lincolnshire last week.
North Lincolnshire Council said residents could apply for a grant of up to £300 to help towards cleaning up flood damage.
On Thursday, a combination of high tides and strong winds caused a storm surge which overtopped flood defences along the Humber estuary.
Hundreds of residents were evacuated from their properties.
Rebecca Leck and her three children were evacuated from her house in the village of South Ferriby.
She said the water had destroyed all her children's toys and school uniforms and the family's Christmas presents.
'Totally ruined'
She said: "What do you do?
"We're homeless. Where we're going to go?
"We can stay with friends and family for a short time, but what do you do after that?"
More than 170 properties in the village were affected by the flooding.
Conservative leader of North Lincolnshire Council Liz Redfern said the authority would also be offering affected residents a "three month grace" period on paying their council tax.
"People's home are just totally ruined," she said.
"There is just nothing they can save."