Revellers warned off Humberston Fitties beach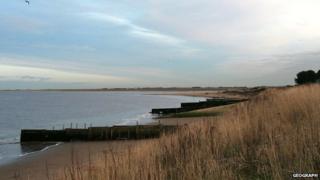 About 40 people who had a party on a beach near Cleethorpes on Friday night have been warned off by the coastguard.
Humber Coastguard was called at 23:00 GMT to Humberston Fitties - an area of mud, sand and marshland on the south bank of the Humber Estuary.
The coastguard said the party was in a "potentially dangerous spot" with visibility less than 82ft (25m).
Cleethorpes Coastguard Rescue and police moved 30-40 people off the beach "in the interests of safety".
Mike Puplett, of Humber Coastguard, said: "They were in danger out on the marsh in fog at night, in cold weather and with the threat of an incoming tide during the hours of darkness.
"Alcohol was flowing freely, and this can and does impair people's judgement."
Humberston Fitties beach won an award for high standards and water quality in 2012. It was badly damaged in the tidal surge in December last year.