East Yorkshire council set to approve flood cash for businesses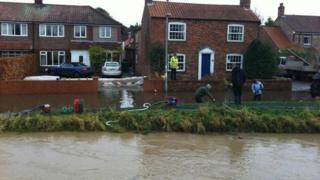 Businesses in East Yorkshire hit by flooding could receive government cash to compensate for loss of trade.
East Riding of Yorkshire Council has received £182,000 to help small and medium-sized firms meet clean-up costs.
It will discuss a package of measures on Tuesday to help businesses hit by December's tidal surge and this year's severe weather.
The report also recommends a three-month business rates relief of 100% for businesses meeting certain criteria.
Councillor Stephen Parnaby, leader of the council, said: "Experiences over the last few months have shown how devastating the impact of flooding [can be] on residents and businesses.
"The council is alert to the various flood relief schemes and grants announced by the government and we will do all we can to ensure that people and businesses are aware of them and get all the help they can as quickly as possible when the government's scheme is up and running."
The council was allocated the money under the government's Business Support Scheme to help those who have suffered a significant loss of trade.
It will also consider accepting applications under the government's Repair and Renew Scheme, which offers grants of £5,000 to homeowners and businesses to improve a property's flood defences.
Details of how to apply to flood relief schemes will be sent to town and parish councils.