Call for delay on North Lincolnshire flood plain homes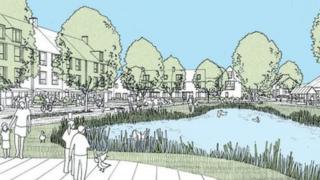 Politicians in North Lincolnshire have called for a plan to build 3,500 homes on a flood plain near Scunthorpe to be put on hold.
The £612m Lincolnshire Lakes scheme would see two newly-created villages developed on land to the west of the town.
Conservative MP Andrew Percy said building work should wait until new flood maps for the area were drawn up.
The developer Lucent said it planned to reinforce the existing flood defences.
If approved, the scheme could eventually see 6,000 new homes built in phases by 2026.
Mr Percy, MP for Brigg and Goole, has been joined in the calls for a delay to the scheme by the Conservative leader of North Lincolnshire Council, Liz Redfern.
'Flood risk'
The pair met the Environment Agency to discuss their concerns, which were triggered by the flooding of the nearby villages of Burringham and Keadby during a tidal surge along the Humber Estuary in December.
The surge caused a breach the bank of the River Trent.
Mr Percy said the developers should wait until the Environment Agency had made a proper assessment of the December flooding.
"How can we possibly think about building 3,500 houses on what is a flood plain particularly when we know the previous modelling for flood risk in our area was proven to be incorrect?"
The MP said he was writing to Lucent to ask them to "put their application on hold".
In a statement, Lucent said that during the December tidal surge "the proposed Lincolnshire Lakes development site did not flood".
It added that it intended "to raise the development" to enhance the level of protection even if the banks were breached beyond what could be expected of a once-in-a-century flood.