Refurbished Cleethorpes pool to stay closed after slips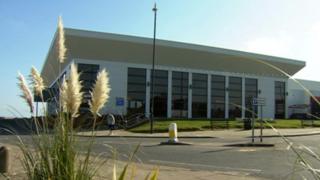 A recently refurbished swimming pool is to remain closed for repairs after a number of people slipped on its new floor.
Cleethorpes pool reopened last month after a £2.5m refit.
North East Lincolnshire Council closed the pool after just one week following complaints from the public after a series of accidents.
The council said that the pool would remain closed until the end of March to allow the floor to be re-laid.
Sarah Taylor, whose three-year-old daughter Chelsie injured herself after falling, said the council had "wasted money" on the refurbishment.
'Very upset'
"As she was coming out of the pool she was holding on to the swimming teacher's hand and that's when she slipped on the new floor," said Ms Taylor
"She started crying and she bruised and grazed the back of her thigh.
"She was very upset."
The council said that tests on the flooring had "revealed that excessive resin used to seal the flooring reduced its slip resistance".
Labour councillor Mick Burnett, portfolio holder for leisure, said: "We apologise that the pool will face further temporary closure but it is essential that the contractors are given sufficient time to re-lay the flooring.
"We must ensure the safety of our customers and we will only open the pool once we are happy that the problems with the flooring are resolved."