Protest march over cuts to Humberside fire service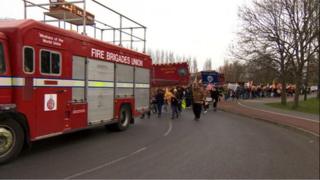 Firefighters and members of the public have marched through Grimsby over plans to merge two fire stations in the town.
The Cromwell Road and Peaks Lane stations will merge next month with the loss of one fire engine, as part of £2.5m of budget savings.
The Fire Brigades Union (FBU) claimed reducing the number of fire engines would put the public at risk
Humberside Fire and Rescue Service said it would still be able to meet response standards.
The march followed a fire engine carrying a coffin.
'Undermines firefighters'
Matt Wrack, general secretary of the FBU, said having fewer fire engines increased the risk to firefighters attending incidents.
"It undermines our ability to do our job as effectively as we should be able to do," he said.
"Dealing with hazardous and dangerous incidents we feel we are entitled to have the best possible resources to do that job."
The details of the Operational Efficiency Programme were announced in January by the Humberside Fire Authority.
Other measures include crewing all fire engines in Hull with four firefighters instead of five and replacing a number of full-sized engines with two person "Small Fires Units."
Humberside Fire and Rescue Service said it had carried out a 12-week consultation with staff and members of public on the options in the Grimsby area.
A service spokesman said: "We believe the public recognise that the fire and rescue service has to reduce the amount of engines it deploys in certain areas and that this will be done reasonably and proportionally ."