Grimsby taxi drivers' concerns over attacks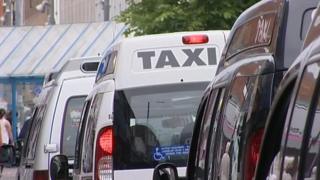 Taxi drivers in Grimsby have claimed that violence towards them could lead to a shortage of night-time drivers in the town.
More than 70 drivers have formed a new group called Taxis for Change to lobby on the issue.
Susan Barss from the group said there were four attacks in the last week.
Humberside Police said that the number of attacks increased over weekends and that drivers should not pick up people who looked suspicious.
Roy Grantham, who was the victim of an attempted robbery last week, said he now only drives during the day.
"You do get people who do a runner," he said. "Which at first was going through my mind but then I realised it was a bit more than that.
"I believe we are an easy target. We're very vulnerable."
'Sixth sense'
Humberside Police said they had arrested four people last week in connection with two separate robberies from drivers in the town.
Ms Barss said she had been assaulted three times over recent months.
"It really is getting bad out there," she said.
"It is coming to the stage where people are going to stop going out to try and earn a living."
Insp Mel Christie, from Humberside Police, urged drivers to take preventative measures, such as installing CCTV in their cabs.
He added: "I would also say to taxi drivers to be aware of a sixth sense and if they feel something is just not right when they are going to pick someone up then don't stop for that fare."