Endeavour High School in Hull to close down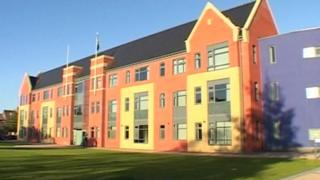 A secondary school which failed to attract a sponsor to turn it into an academy will close next year.
Hull City Council's Labour-run cabinet has agreed to shut down Endeavour High School on 31 August 2015.
Pupil numbers at the 1,200-capacity school have been declining for several years and it has been put in special measures by inspectors three times since it opened in 2001.
The Hull branch of teachers' union NASUWT said it was a "sad day".
Councillor Rosie Nicola, responsible for learning and skills at the authority, said: "It is with genuine sadness that I recognise that there is no option but to close the school in August 2015.
"As a result, it is essential that we act swiftly to ensure that we help to facilitate the smooth transfer of Endeavour pupils from the current years 7, 8 and 9 to alternative schools of their choice."
'Financial reasons'
There are 495 pupils registered at Endeavour, with nearly half speaking English as an additional language.
Last year 29% of GCSE students achieved five A*-C grades including English and maths compared to Hull's average of 50%.
And in October it emerged that the Department for Education, the council and the school's executive board had failed to find a suitable academy sponsor for Endeavour because of "low current and projected pupil numbers".
NASUWT branch secretary Adrian Joice said: "It's a sad day that a good school with good support for lots of children from lots of different nationalities has not survived.
"The parents have really been appreciative of the school, so from that viewpoint it's a successful school, but the decision's been made for financial reasons."
The council said it would consider options for the future use of the site at a meeting in April.