Hull Studio School to close two years after opening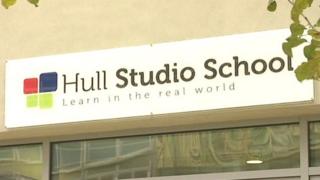 A "studio school" in Hull is to close just two years after opening, the trust which runs it has confirmed.
Hull Studio School, which opened in September 2012, "struggled" to attract enough students and will close in August, said Hull College Group (HCUK).
It is one of more than 40 "studio schools" which have opened since 2010 or are due to open and is designed to mix academic study and paid work.
All pupils will be helped to find alternative school places, said HCUK.
'Significant change'
As well as studying for GCSEs and vocational qualifications, studio school students work on paid placements with local employers on real-life business projects.
Studio school pupils do weekly work experience and follow "nine-to-five" hours with the aim of getting them ready for the work environment.
The first two Studio Schools opened in September 2010 in Huddersfield and Luton.
Since Hull Studio School opened in 2012, offering a maximum of 300 places for students aged 14 to 19, there has been a "significant change in the availability of quality education provision" in the city, a HCUK statement said.
"As a result of these developments and the high proportion of surplus places in the area, the school has struggled to recruit the number of students necessary to secure its viability," it added.
The trust said it was working to ensure students found an "appropriate destination to continue their learning" before the school closes.
Trust chairman Gary Warke said pupils' education "remains of paramount importance throughout this transition period".
Adrian Joice, regional secretary of teachers' union NASUWT, said Hull Studio School was "an experiment that has failed".
"It's obviously very sad that the curriculum on offer looked very inviting and sounded inviting, but obviously the students don't think it's as inviting as the people who set it up. It's a sad situation."