Humberside Police deny Hull drugs 'epidemic' claim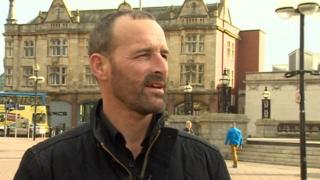 Claims of a drugs "epidemic" in Hull, made by the father of a teenager who killed his grandmother while high, have been denied by police.
Lewis Dale, 17, was jailed in March for the murder of 78-year-old Irene Dale after taking mephedrone or M-Cat.
His father David said the availability of the drug meant it was as easy as "buying a bag of crisps".
Humberside Police said Hull's drug problem was no worse than any other city and was dealt with "robustly".
David Dale, 49, said: "In 2010 it became illegal but I don't think that has done a great deal because it is so easily available and the people who sell it will sell to any age.
"It is like buying a bag of crisps - just more expensive."
'Drug of choice'
His son had stabbed his grandparents while they were in bed at their home in Summergangs Road in Hull last April.
Mrs Dale died but her husband, Allan, 80, survived.
Jurors at Dale's trial at Hull Crown Court were told he regularly used the drug mephedrone.
Mr Dale said: "The impact M-Cat has had on my life and my son's life - well, it has just ruined it. It has ruined the whole family."
Det Ch Insp Dave Houchin, from Humberside Police, said: "M-Cat has become the drug of choice over and above other drugs but I would not describe it as an epidemic in the city.
"It is a concern that drugs are readily available and people take them - but that is nothing new."
He added: "We deal with it robustly. We have executed 30 Misuse of Drugs Act warrants so far this year. We are doing an awful lot to tackle dealers."