Private island is bought by RSPB for £47,500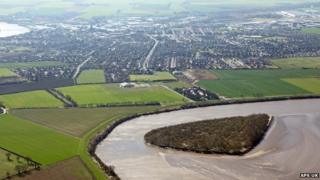 A nature conservation charity has bought a private island in the River Ouse to protect its wildlife habitat.
Hook Island, near Goole, East Yorkshire, is a 19-acre (8-hectare) Site of Special Scientific Interest and home to birdlife including herons.
The privately-owned island was bought for £47,500 by the Royal Society for the Protection of Birds (RSPB).
Pete Short of the RSPB said: "You can't really put a cost on saving the natural environment."
Mr Short said if the society had not bought the island "somebody would have wanted to do something with it".
The purchase would ensure the land, which is covered in thick vegetation, was "preserved for future generations", he added.
The island was previously on sale with a guide price of £100,000.