Crufts puppy is stolen in East Yorkshire house raid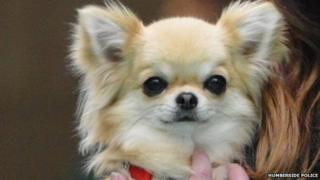 Five dogs, including a Crufts champion worth several thousand pounds, have been stolen during a burglary.
Humberside Police said the five Chihuahuas were taken from the property on Allison Lane, Lissett, near Driffied, East Yorkshire, on Thursday.
Mal Hilton, 65, who owns the dogs, said he was "devastated" by the robbery and feared for the animals' safety.
One of the dogs stolen was Valenchino Chihuahua Xena who was named Best Puppy in Breed at Crufts in March.
'So worried'
Fourteen-month old fawn longcoat Xena is known as Xena but her show name is Valenchino Made of Candy.
Other dogs taken included Xena's grandmother Angel, her mother Lo as well as two others named Pandora and Evie.
Mr Hilton said: "I'm 65 years old and I haven't cried for years until now. They are just like our children. We are devastated by this and we just want them back.
"I just want someone to hand them in - to the RSPCA, to a vet, to anywhere safe. It doesn't matter. Just leave them somewhere so we can get them back.
"I'm just so worried they will come to harm."
Humberside Police said it was thought the thieves might have used a wicker basket to take the dogs away.
A spokesman said: "These dogs need to be reunited with their owner and police are appealing for anyone who knows anything to contact them immediately so that we can have a happy ending to this story."