Hull man arrested over Humber Bridge standstill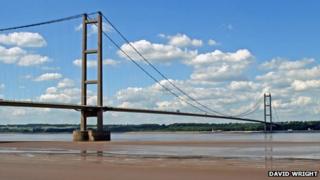 A man has been arrested in connection with an incident on the Humber Bridge when a man climbed onto a car and threatened to smash the sunroof.
Traffic came to a standstill as a man lay on the vehicle's roof and refused to move, while two people were inside, Humberside Police said.
The incident happened at about 22:00 BST on Sunday.
A 29-year-old man, from Hull, was arrested in relation to the incident after being medically examined.
Police said a man had driven on to the bridge in a silver convertible car with only three tyres before he stopped and walked across the carriageway.
A force spokesman said the car had "somehow lost one of the tyres en route to the Humber Bridge".
He added: "Traffic on the bridge came to a standstill whilst the man apparently stood on a member of the public's car bonnet and allegedly refused to move.
"It is reported he laid across the roof of the strangers' car and threatened to smash their sun roof, whilst the two occupants remained inside the car."