Ronald Berry Spitfire pilot's WW2 medals for sale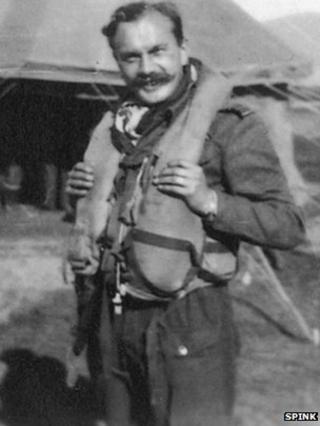 The medals and decorations awarded to a Spitfire pilot who flew in the Battle of Britain during World War Two are to be sold at auction in London.
Air Commodore Ronald 'Ras' Berry, was a 23-year-old pilot with 603 squadron during the battle.
The lot, with his CBE and Distinguished Service Order, could fetch £80,000-£120,000 on 24 April, auctioneers said.
Mr Berry, was born in Hull, East Yorkshire in 1917 and flew more than 400 combat missions in World War Two.
He shot down 10 enemy aircraft, claimed his part in the destruction of another six, had eight "probables" and also caused damage to nine.
Mr Berry shot down three German Messerschmitt 109s in one day during 1940 and was awarded the Distinguished Flying Cross and Bar.
An estimated 1,023 RAF and 1,887 Luftwaffe aircraft were lost in what became known as the Battle of Britain.
Mr Berry was a wing commander by the time the war ended in 1945 and rose to the rank of Air Commodore before retiring in 1969.
When wartime Prime Minister Winston Churchill died in 1965, the fighter ace was one of 14 Battle of Britain pilots chosen to march at the head of the state funeral procession.
Mr Berry was appointed OBE in 1946 and CBE in 1965, and died in 2000.
Oliver Pepys, of auctioneers Spink, said there was expected to be "significant interest" in the auction's lots.