Police in Grimsby launch anti begging campaign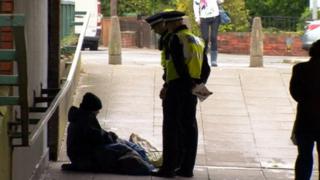 Police in Grimsby are running a campaign against street beggars.
Officers have been handing out leaflets asking people not to give money to beggars but instead donate to a local homeless charity.
Humberside Police said it would also contact the Department for Work and Pensions if it found any person begging who was also in receipt of social security benefits.
PCSO Simon Saxby said the problem in the town was "getting bigger".
Mr Saxby claimed that some beggars could earn £400 a week and were "no more desperate than most people in Grimsby".
"Most of them do have habits of drugs or alcohol," he said
"It's not helping people that are actually asking for money - it is just encouraging them to keep up their current lifestyle."
'No need'
The initiative is being supported by local homeless charity the Harbour Place Day Centre, which is the organisation police suggest members of the public should give money to instead of street beggars.
The charity's project director Dave Carlile claimed that many of the people asking for money on the streets would not accept help from agencies.
"There is no need to beg in the town," said Mr Carlile.
"Most of them have their benefits and we provide meals, clothing, food.
"We have a supported housing project as well, which we could help them to get accommodation if they needed it.
"So there is absolutely no reason for them to be on the streets."