Hull City supporters queue overnight for FA Cup final tickets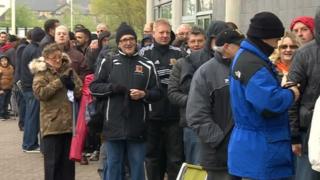 Fans have queued overnight at the KC Stadium to buy tickets for Hull City's FA Cup final game.
The Tigers will play their first ever cup final against Arsenal at Wembley Stadium on 17 May.
Season pass holders have already bought their share of the club's allocation of 25,000 tickets, with the remaining tickets going on general sale.
Hull City's communications manager Ash Lord said there were about 5,000 tickets available.
"We expect them to have gone by today judging by the queues, " he said.
The tickets are restricted to fans who went to the semi-final match against Sheffield United last month.
The Football Association's (FA) distribution of tickets has been criticised by Arsenal chief executive Ivan Gazidis.
'Not right'
He said: "We are disappointed many of our supporters and also those of Hull City will be unable to get tickets,
"The balance in the FA's allocation system is not right."
The FA will give about 20,000 tickets to its county associations, local leagues and charities as well as to clubs in the Premier League and Football League.
A further 17,000 tickets will go to people who have bought its Club Wembley membership package.
A FA spokesman said that 25,000 is the traditional allocation for the final.
He added: "Hull brought just under 27,000 to the semi-final so it is almost in line with those numbers.
"Twenty thousand goes to the football family, the majority of which are grassroots football volunteers.
"The FA Cup is viewed as an occasion that should be enjoyed by football fans everywhere."