New Bishop of Grimsby unveiled at fish docks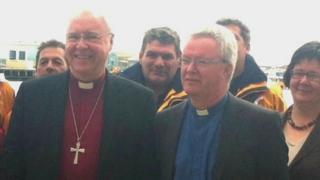 The latest Bishop of Grimsby has been revealed at the port's fish docks.
The Rev David Court brings experience to the role gained as a churchman in Norfolk - both as vicar of Cromer and honorary canon of Norwich Cathedral, where he has served for 11 years.
His latest appointment was announced to a small throng by the Bishop of Lincoln, the Rt Rev Christopher Lowson
The 55-year-old cleric said he was "hugely honoured and privileged".
Dr Court said: "I'm hugely looking forward to getting to know the people, the area and being part of this community.
"I genuinely want to listen, I want to learn, I want to see the kind of things bishops can be involved in that will make a practical difference to the lives of communities and individuals."
The Grimsby bishopric has been vacant since the Rt Reverend David Rossdale retired at the start of last year.