Hull City fans head south to Wembley for FA Cup Final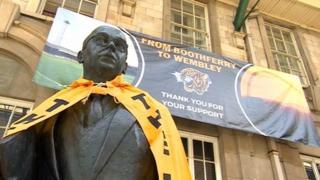 Hull City supporters from around the world are heading to Wembley ahead of the Tigers' FA Cup final against Arsenal on Saturday.
The club sold all its allocation of 25,000 tickets within a few days, with fans queuing overnight to get their hands on one.
Additional train services have been put on to and from the capital.
It is the club's first appearance in a major final in its 110-year history.
Hull's Paragon Station has been adorned with banners in the club's black and amber colours and the statue of poet Philip Larkin on the station concourse was sporting a city scarf.
Life-long fan Mike Wright has travelled from Perth in Australia for the final.
'It's fabulous'
He said he was "stunned" when he found out his brother-in-law Robert had managed to get him a ticket.
"I really didn't believe it would happen because I had seen everybody queuing on the TV. It's fabulous," he said.
Local fan Robert Carlisle has cancelled a sailing trip around the UK to cheer on the Tigers.
"Hull City comes first, that's a no brainer," he said.
"I've been supporting them for 45 years.
"I never thought I would see this day, like most people in Hull."