Deal or no deal? Rare fish found at Hornsea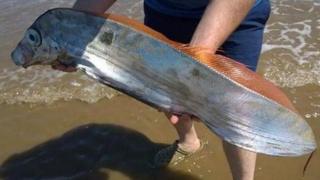 A rare fish washed up on a Yorkshire beach normally lives in the open ocean at depths of up to 1,000 metres, a leading marine biologist has said.
Prof Mike Elliott, at the University of Hull, said the Deal Fish found on the beach at Hornsea normally inhabits colder waters north of Scotland.
Prof Elliott said the one-metre long (3ft 3in) fish was young as adults could be up to 2.4m (8ft) long.
He said: "Global warming means these fish should be moving further north."
The fish was found on the beach by Hornsea resident Allan Dougal and his son.
'Rare sight'
Mr Dougal said that it was at the water's edge and "after clearing its gills of sand it was returned to the sea where it swam away".
Prof Elliott said: "This fish gets much bigger and can get up to eight-and-a-half feet.
"It may have been stranded on the shores. They go down in deeper water of about 200 to 1,000 metres deep, they are oceanic fish
"They are rare in the North sea, North of Scotland would be a bit more common.
"They are a northern species, but with global warming I'd expect a move even further north.
"This fish is probably a three-year-old fish according to data I can see.
Mr Dougal said he thought the specimen was called an "Oar Fish" but Prof Elliott said the specimen would have spines on its head.