Cleethorpes pool to close as second new floor replaced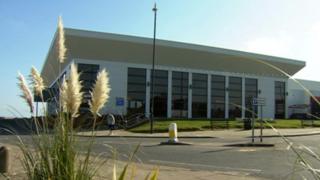 A swimming pool will close for five weeks while a second new floor is put down, after the first two proved to be too slippery.
Cleethorpes pool was closed on 1 March for the floor to be relaid, despite a £2.5m refurbishment in February.
North East Lincolnshire Council said the pool would close again on 15 June for the poolside floor to be changed once more.
It is understood the £70,000 repair bill will be met by the contractors.
In April, Labour councillor Mick Burnett, said he was confident the new flooring had "passed a number of rigorous tests" and the pool was reopened.
'Empathy with swimmers'
But on Tuesday, the authority issued a statement saying: "Anti-slip safety tests to monitor the effectiveness of recently laid pool-side flooring - part of the £2.5m refurbishment of the building - have been continuing and although much improved, the council has unresolved concerns over the suitability of the floor's surface."
Mr Burnett said: "Both the council and Lincs Inspire who manage the facility, fully empathise with swimmers who are facing another temporary pool closure.
"However, we would not be doing our job properly if we continued to keep the pool open with concerns over the flooring."
North East Lincolnshire Council said it closed the pool in March as a "health and safety precautionary measure".
The authority said the manufacturer's results showed excessive resin used to seal the flooring had reduced its slip resistance. As a result the floor was relaid.
"After monitoring the performance of this relaid flooring, together with feedback from staff and users, a decision has been taken to replace the flooring using an alternative material", the council added.