Offshore substation built at Westermost Rough wind farm site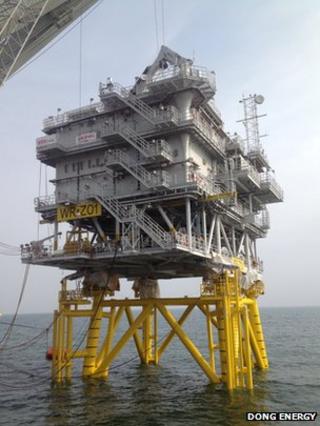 Completion of a wind farm off the East Yorkshire coast has moved a step closer with the installation of an offshore substation.
The Westermost Rough wind farm will be located east of Hull in the North Sea, five miles (8km) off the coast.
Electricity generated by 35 Siemens 6MW turbines will pass through the substation before being fed into the national grid at Salt End, near Hull.
Work to install the turbines is due to start later this year.
Developer Dong Energy has said it expects the wind farm to be fully operational in 2015.
Work to install a cable linking the substation to the national grid and the foundations of the turbines has already been completed.
In March, Siemens confirmed it was spending £160m on building wind turbine production and installation facilities on the banks of the Humber.