Five people escape from East Yorkshire house fire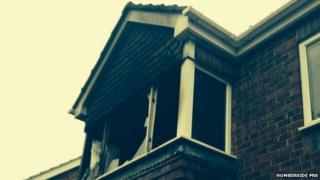 Five people escaped from a first floor window after a fire broke out at a house in Beverley, Humberside Fire and Rescue Service said.
One woman suffered "severe fractures" and two other people went to hospital with smoke inhalation.
Firefighters were called to the house on Newton Drive at 03:19 BST.
The fire service said the blaze was caused by a fuse box and there was "severe fire and smoke damage to the whole property."