Threatened Hull youth centre gets lottery cash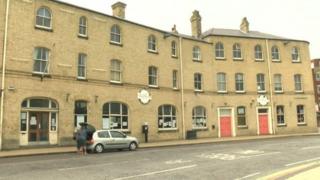 A Hull youth centre is to get almost £500,000 in lottery funding.
The Warren Centre provides help for disadvantaged young people and has been operating for more than 30 years.
The £492,000 grant will fund training and support for people facing homelessness and unemployment.
The future of the centre is uncertain as Hull City Council is in the process of retendering its youth services, which could see grants to the Warren cut.
Lee Andrews, who works as a learning adviser at the Warren, said the lottery money had been ring-fenced for a specific project and could not be used to pay for the general running costs of the centre.
He said: "I think it is important not to be blinded by the fact that we have just brought in £500,000 into the city of Hull to help young people.
"What's important to realise is although we have that money it is for that particular project."
'Good foundation'
The centre has launched a fundraising campaign on social media.
Janet Kent deputy co-ordinator at the Warren, said the centre was "still in jeopardy of closure".
"It's given us a really good foundation," she said.
"A battleground to go from, but the cuts that have come down from central government will still have a huge impact on whether we stay open.
"We've still got a fight on our hands to try and secure more core funding."
Labour councillor Terry Geraghty, who is responsible for youth services in the city, said the council was in the process of retendering services for young people.
He said: "Funding has not been withdrawn, but as current contracts with providers have come to an end, the council is in the process of recommissioning youth services, to ensure what is provided meets the needs of young people in the city."