Bridlington bathing water pipe arrives by sea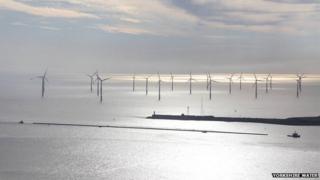 A plastic pipe 0.75 miles (1.2km) in length is being towed into Bridlington to complete a £40m investment to improve the area's bathing water.
The pipe will discharge clean water into the sea, Yorkshire Water said.
The 4,500 tonne structure has been floated about 70 miles (113km) along the coast from storage on the river Tees to the town's South Beach.
A previous attempt to deliver it last year was called because off because of poor weather.
Contractors have prepared a trench for the pipe - built in Norway - which will finish a project that began in 2012, Yorkshire Water said.
Mark Doherty of Yorkshire Water said: "Our bathing water investment will be a big boost to Bridlington."
He added he hoped the improved water quality would add to the town's reputation "as one of the best coastal resorts" in the UK.
The work is part of a £110m project to improve water quality for 10 Yorkshire beaches.