Hull's Wellington House demolition plans revised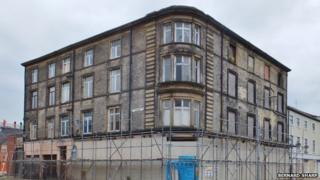 An historic Victorian building in Hull is being demolished in two phases after the city council's original plan to "strip it down by hand" failed.
The authority said it took the decision on "safety grounds" because scaffolding erected around the derelict building had made it structurally unstable.
The building, on the corner of Wellington Street, had to be knocked down because it was in a poor state.
All possibilities in refurbishing it had been exhausted, the council said.
The building was designed by Hull-born architect Cuthbert Broderick, who was also responsible for Leeds Town Hall and the Grand Hotel in Scarborough.
The council said it would record the building's features in a photographic survey before its demolition.