East Yorkshire and northern Lincolnshire get £104m investment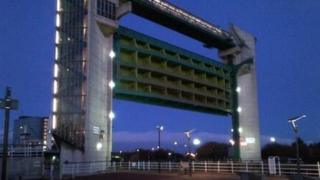 Almost £104m of government money is to be pumped in East Yorkshire and northern Lincolnshire in an attempt to boost economic growth.
The government says the total investment will grow to £358m, with additional money coming from the public and private sectors.
Money will be spent on flood defences, improving transport links and training projects.
The two years' worth of funding starts in 2015.
The money is the first instalment of £12bn the coalition is investing nationally in a series of local "Growth Deals".
The government said the investment could create 6,000 local jobs and safeguard 3,000 others.
Almost £48m of the government grant for the Humber area is earmarked for flood protection schemes.
Money will go towards protecting a planned 6,000-home development near Scunthorpe. In December, parts of the region were flooded following a tidal surge along the Humber Estuary.
'Rather more'
Other projects receiving investment include £4m towards building a footbridge over the A63 Castle Street in Hull to connect the city centre with Hull Marina.
More than £7.5m will be invested in electrifying the Hull to Selby rail line, if the Department for Transport approves the scheme.
Lord Haskins, chair of the Humber Local Enterprise Partnership, said the region had done better than the rest of the country in the amount of funding it had received.
"We asked for rather more, "he said. "We got half of what we asked for, whereas the rest of the country got only a third of what it asked for.
"So there is a recognition that there is greater need, if you like, for public expenditure in this area."