Beverley fracking protest charges dropped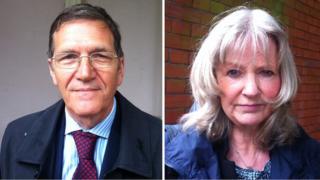 Charges have been dropped against a former council director and his wife, who were arrested at an anti-fracking protest in East Yorkshire.
63-year-old Jonathan Mager and retired teacher Valerie Mager, 64, were arrested at Rathlin Energy's gas exploration site on 15 May.
They were charged with preventing staff from carrying out their legal business.
But the Crown Prosecution Service said there was now "insufficient evidence" to proceed with the charges.
Adrienne Gower, senior district crown prosecutor, said: "Jonathan and Valerie Mager were originally charged by Humberside Police under section 241 of the Trade Union and Labour Relations Act 1992.
"Following careful review of the evidence, we concluded there was insufficient evidence to provide a realistic prospect of conviction."
Mr and Mrs Mager, who were due to appear at Beverley Magistrates' Court on 31 July, said: "We were simply exercising our right to protest... If fracking goes ahead it will devastate one of the most beautiful and productive rural areas of the UK.
"When we complained about being kept in police cells for 10 hours we were told this was necessary to gather evidence. The police had a video of the arrest.
"The only conclusion is that we were arrested to stop us supporting the campaign against fracking by the use of bail conditions."
Humberside Police declined to comment.
Rathlin Energy has previously said that "no fracking is involved" in its testing programme at Walkington, East Yorkshire.
Mr Mager is former director of education at East Riding of Yorkshire Council.