Walkington anti-fracking protest tower 'must be removed'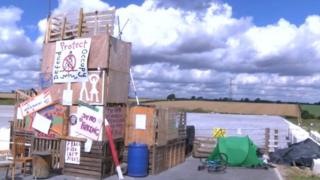 A judge has said protestors must remove a wooden tower blocking the entrance to a site where a firm hopes to prospect for gas or oil.
Anti-fracking campaigners built the structure at Rathlin Energy's site at Walkington, East Yorkshire, last month.
The firm and the landowner went to the High Court, in London, for an order forcing protestors to move the barrier.
The order was granted but campaigners have said they will not dismantle the obstruction.
The judge rejected moves by the campaigners to get the hearing adjourned and ruled the protestors must remove the obstacle immediately.
The campaigners said they expected bailiffs accompanied by police to enforce the court order in the next few days.
They also said they would continue camping in tents on the road verges near the Crawberry Hill site.
'No fracking involved'
Rathlin Energy said: "There will be nothing to prevent protestors from protesting legally if they can find somewhere from where they can do it legally."
It said in March that "no fracking is involved" in its testing programme at Walkington.
Rathlin Energy has a licence from the Department of Energy and Climate Change to search for oil and gas in the area north of the Humber and from west of Beverley to the North Sea coast.
The geology containing the gas fields of the North Sea also extends under parts of East Yorkshire, the company said.