Family appeal to trace dead soldier's stolen watch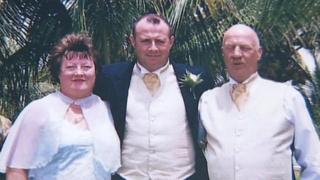 The family of a soldier killed in Afghanistan have appealed to trace his watch that was stolen in a burglary.
Sergeant Matthew Telford was shot dead by an Afghan policeman in 2009. He gave his Tag Heuer watch to his dad before leaving to serve in Afghanistan.
The watch was stolen from the family's home in New Waltham, Grimsby, last week while they were on holiday.
Mr Telford's parents said they were devastated. Humberside Police said it was investigating the theft.
Officers said "a large quantity of valuables had been stolen including a gents Tag Heuer watch, which is of sentimental value" some time between 23 and 30 August when the family were on holiday.
Mother Cheryl Telford said: "It's not just a watch. There's so much more attached to it than the monetary value.
"So we're appealing [to whoever stole it or knows anything about it] could you please have a conscious and let us have it back."
'Lost link with Matthew'
The chronograph style watch has a blue round face and a silver bracelet, with a missing button on the lower face.
Mrs Telford said: "It's a link to Matthew that he left his father and that was devastating really.
"Ron has been very emotional because he feels he's lost his link that he had with Matthew.
"Whenever we go anywhere, anything to do with the Guards or to the reunions, he wears that watch and he feels as though a part of Matthew is with him."
The father-of-two, who served with 1st Battalion The Grenadier Guards, was killed while training Afghan forces.
More than 1,000 people attended his funeral and a park in Grimsby was renamed in his honour.