Hull's £25m revamp plans for City of Culture on show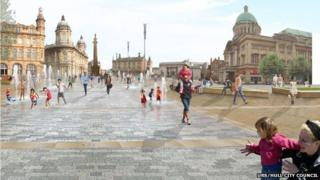 Plans for the first phase of a £25m transformation of Hull's city centre are being exhibited.
The proposals, which include revamping the Fruit Market, are on show inside St Stephen's, Prospect and Princes Quay shopping centres and the Marina.
Hull City Council said the first phase, which costs £12.7m, would "maximise our city's unique character and heritage".
It is hoped the transformation will prepare for Hull's role as City of Culture in 2017.
The first phase of the plans include new lighting designs and public art in the areas between Hull station and the Fruit Market.
As part of the exhibition, residents are being asked for their views on proposals to move the Wilberforce statue, commemorating the city's anti-slavery campaigner William Wilberforce, to Monument Bridge.
The work is expected to begin in the autumn.
The exhibition runs until Sunday.