Relatives asked to tidy up North East Lincolnshire graves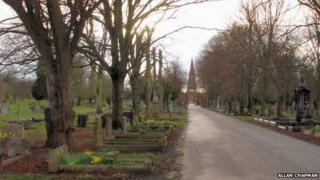 Relatives with family members buried in North East Lincolnshire cemeteries are being asked by the council to clear up their graves.
The authority has written to the deed owners asking them to ensure the graves comply with its regulations.
It wants people to tidy the plots and remove ornamental chippings and home made kerb sets surrounding the graves.
The council said it would remove unauthorised items and put them in storage.
North East Lincolnshire Council said that its regulations only allow ornamental chippings "if they are contained within a monumental kerb, supplied and fitted by a memorial mason".
"Well-kept environment'
If grave owners cannot be contacted the council will leave a notice on the grave asking for a clear up.
The authority said that is there was no response after six months it would remove the items and place them in storage.
Labour councillor David Watson, cabinet member for environment, said: "We realise that it can be upsetting for families to be asked to change a loved one's grave.
"However, the regulations are there to ensure we have a safe and well-kept environment for all who visit the cemetery."