Bridlington Town Hall clock repaired after a year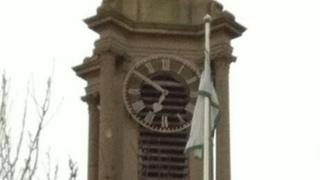 A town hall clock which has been stuck at ten to seven for over a year has been taken away for repair after complaints by residents.
The clock at Bridlington Town Hall, opposite the railway station, stopped working last August.
East Riding of Yorkshire Council said it would be removed and repaired off site by Smith of Derby.
It is thought to be the first major refurbishment of the 19th Century timepiece for about 80 years.
The council said the clock should be back in full working order by mid-October.
Councillor Chris Matthews said: "Bridlington Town Hall is a Grade II Listed building and it is great to see the clock being restored to its original condition."
The clock is expected to be in full working order in time for the remembrance service in November to mark the centenary of World War One, he said.
Full costs of the repairs are yet to be established, but the council said it was taking the opportunity to improve access to the clock tower and to carry out work to discourage pigeons.