Grimsby Town aims to tackle the number of fan bans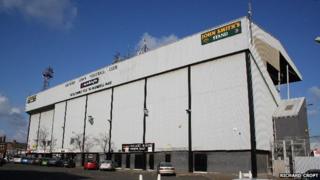 A non-league football club is trying to tackle the number of its fans issued with football banning orders.
Ten Grimsby Town fans were banned last season, according to the latest Home Office figures.
The Football Conference club had an average crowd of 3,500 at its Blundell Park stadium.
On the opposite side of the Humber, Premier League side Hull City, with an average home gate of more than 24,000, saw only five supporters banned.
The Home Office report said last season Grimsby also had the highest number of arrests in its league, with 27 people detained - mostly for public disorder offences.
Stadium manager Nick Dale claimed the statistics "don't really tell the full story" and there was "minimal trouble" at its home ground, Blundell Park.
'Dim view'
"On our travels, issues tend to be more centred around local derbies or clubs that have their own group of risk based supporters," he said.
"That for the club is not good and it is something we take a very dim view of."
Mr Dale said the club was hoping to set up a programme with the local Youth Offending Service to tackle the problem.
He said the project would "try to eliminate, or to help those who have been involved in disorder to move away from it."