East Yorkshire voters reject Hull boundary change plan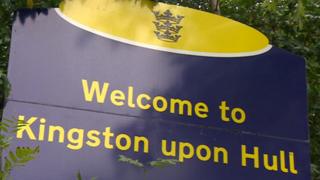 Voters in parts of East Yorkshire have rejected a plan by neighbouring Hull to expand its boundaries into parts of the East Riding.
The ballot was organised by the East Riding of Yorkshire Council after Hull City Council launched a commission to look at expanding the city's boundaries.
More than 51,000 people voted against changing the boundaries, with 1,887 voting in favour.
The voter turnout was 75.2%.
'Hostile takeover'
The results of the vote will be forwarded to the Local Government Boundary Commission for England which will consider any changes to the two authorities' borders.
East Riding Council's Conservative leader Stephen Parnaby welcomed the result and said it "should block hostile takeover and land grab".
Labour-run Hull City Council's commission is to look at four options:
merging the two existing authorities;
combining some council functions;
extending the city boundary to bordering built-up areas;
extending the boundary into travel-to-work areas as well as bordering built-up areas.
Stephen Brady, Labour leader of Hull City Council, said he was not surprised at the result but claimed that the councils needed to combine to benefit economically.
"The devolvement of power from central government is coming after the Scottish devolution vote," he said.
"And if we're not in a position where we're either a city region or combined authority then those powers are going to be given elsewhere and not to us"
Mr Parnaby said the area was not missing out on economic growth
"This is not the route to go down," he said.