Hall Road Primary Academy 'packed lunch police' stood down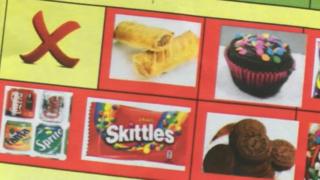 A primary school has abandoned its "packed lunch police" scheme in which 10-year-olds were asked to check fellow pupils' lunches for "unhealthy" items.
Hall Road Primary Academy in Hull said it had scrapped the scheme after "negative comments", but that staff would now carry out the checks.
Parents of pupils found with items including crisps, fizzy drinks and chocolate will get warning letters.
Parents had launched a petition against the original proposal.
The school wrote to parents, telling them that Year Six pupils, dubbed the "packed lunch police" would vet fellow pupil's lunchboxes.
'Bursts out crying'
Rachel Nason, whose two children attend the school, called the original plan "ridiculous".
She said: "It's not down to staff or children what the kids eat for their lunch. It's the parents' decision."
"As soon as we get to the door in the morning, Charlie bursts out crying because she doesn't want to go school hiding her lunch bag. She comes home having eaten only her sandwich.
"It's tantamount to bullying."
In a statement, the school said: "Children and staff at Hall Road Primary Academy care passionately about the need for a balanced and healthy diet and the proposal to check packed lunches came from our older children.
"However, there has been a huge variation in the quality of the food and snacks brought into school daily, which, in extreme cases, has varied from seven chocolate bars to four packets of crisps.
"In view of some of the negative comments that have been falsely made against the children who check the lunches, this responsibility has now been transferred to school staff."