Hull Cleartech Waste recycling plant fire fought by crews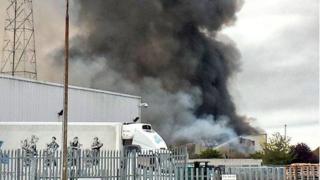 About 50 firefighters have tackled a fire involving 400 tonnes of waste at a derelict industrial unit in Hull.
The blaze broke out at the Cleartech Waste recycling plant on Stockholm Road, Sutton Fields, at about 07:40 BST.
The fire service said there was 300 tonnes of household waste and 100 tonnes of cardboard and plastic burning inside the building.
Staff had been evacuated from Hull City Council's neighbouring depot.
The local authority warned people to avoid the area.
Humberside Fire and Rescue Service said the blaze had been brought under control, but crews would remain at the scene.
At the height of the fire, 15 fire engines were used to control the blaze, which covered an area of 150m by 100m.
Eye witnesses reported thick smoke being seen for some distance.
One said: "There's a massive plume of black smoke going up into the sky, visible six or seven miles away."
The fire service has advised residents to keep doors and windows closed.
Staff working at a neighbouring mobile caravan factory said they saw smoke coming from the building before flames erupted.
David Goodfellow, managing director of Coronar Caravans, said: "I arrived at 7:15 this morning and about half an hour later I was alerted by a member of staff that there was smoke coming out of next door, from one of the ventilators.
"So I called the fire brigade and by the time they arrived the building was well alight.
"The first concern for me was my staff, second concern was the black smoke coming towards us. Our factory could have set on fire."
He said staff were immediately sent home.
The fire service believed no-one was inside the building.
Cleartech Waste went into liquidation earlier this year.