Energy firm gets East Yorkshire drilling extension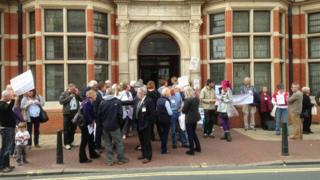 A firm which has been searching for oil and gas in East Yorkshire has been given an 18 month extension to its drilling licence.
Rathlin Energy had applied to East Riding Council for an extra two years permission for its site near Walkington.
It said the extension was needed as it had "not been able to complete the scheduled programme of exploration".
Campaigners held a protest outside the meeting.
The company began to drill at Crawberry Hill in January 2012.
Its site has attracted a camp set up by anti-fracking protesters, despite the firm saying fracking was not taking place as part of the exploration process.
'No possibility'
More than 300 objections were lodged against the license extension application, which councillors on the planning committee approved by 11 votes to one.
In a statement Rathlin Energy said: "We are pleased that the planning committee was minded to approve our planning application at Crawberry Hill.
"However, the shorter timescales given will make it more challenging for us to complete our testing operations for conventional oil and/or gas due to the ongoing disruption from people who are campaigning against fracking at a site where no fracking is taking place."
One of the protesters outside the meeting said they were hoping to stop any further development at the site.
"We do realise that at the moment there is no fracking going on," she said.
"It's just the possibility that it will become that in the future.
"If we can stop it now then there is no possibility that fracking can take place later."