Cleartech Waste fire 'started deliberately'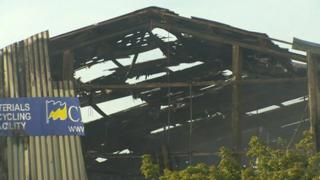 A large fire involving 400 tonnes of waste at a derelict industrial unit in Hull was started deliberately, investigators said.
The blaze broke out at the Cleartech Waste recycling plant in Stockholm Road, Sutton Fields, at about 07:40 BST on Thursday.
The fire service said its investigation was "still in the early stages".
Humberside Fire and Rescue Service said firefighters would remain at the scene for a second day to dampen down.
The single storey building contained 300 tonnes of household waste and 100 tonnes of cardboard and plastic.
'Electrical fault ruled out'
Staff had to be evacuated from Hull City Council's neighbouring depot.
In a statement, Humberside Fire and Rescue Service said: "Early indications show... the fire was started deliberately as the electricity supply to the site had been isolated months before, ruling out an electrical fault.
"Also, the way the waste had been stored ruled out the possibility of spontaneous combustion."
David Goodfellow, managing director of Coronar Caravans, said he called the emergency services after a staff member saw "smoke coming out of next door, from one of the ventilators".
"I called the fire brigade and by the time they arrived the building was well alight," he said.
"The first concern for me was my staff, second concern was the black smoke coming towards us. Our factory could have set on fire."
Cleartech Waste went into liquidation earlier this year.