Hull's 10-strong City of Culture team announced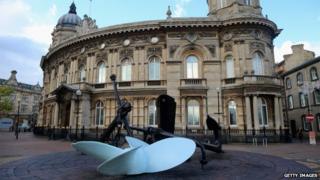 A 10-person board has been announced to oversee the company running Hull's UK City of Culture activities in 2017.
The city is intending to spend £18m on a year-long series of art events after being awarded the title last year.
Neil Hodgkinson, editor of the Hull Daily Mail, and community support worker Karen Okra are among those who join writer and broadcaster Rosie Millard, the chair of the culture team.
Ms Millard said the trustees brought "real passion" for the city.
Sameera Anwar-West, a Hull-based corporate lawyer, Hull councillors Steven Bayes and Terry Geraghty and educational consultant Stephen Liddle are also on the board.
Consultant surgeon Tapan Mahapatra, the University of Hull's Anthony McReavy and chartered surveyor Malcolm Scott complete the team.
Ms Millard said: "This board is our business-focused backbone, with the community and major partners represented by key individuals.
"Added to that is an unbeatable range of skills, expertise, contacts, expert knowledge and life experience that will provide a strong foundation as we start to accelerate the preparations for 2017."
Hull City Council claims the year-long event could bring more than £60m into the local economy and generate 7,500 new jobs.