Falling masonry kills man, 61, in Bridlington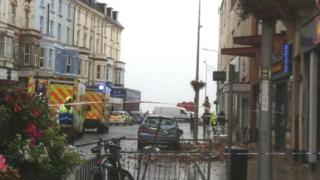 A 61-year-old man has died after being hit by falling masonry outside an amusement arcade at an East Yorkshire seaside resort.
Police said the fallen masonry had "struck the man and a vehicle" near Pleasureland, on Cliff Street, Bridlington, at about 13:00 BST.
There were strong winds in the town, but it is not yet known whether that was the cause of the accident.
A police cordon has been put around the area and road closures are in place.
Humberside Fire and Rescue Service said two crews were sent to the scene, but the man was "no longer trapped" under masonry when they arrived.
According to the Met Office, a strong gale, with gusts of up to 48mph, was recorded in Bridlington at the time of the incident.
But the fire service said it was unclear why the masonry fell. The police said they were working to establish the cause.