East Yorkshire hospital chief vows to stamp out bullying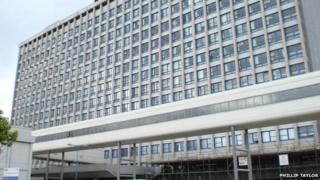 The new head of a health trust has vowed to stamp out bullying after a report found hospital staff were shouted and sworn at on a daily basis.
Conciliation service ACAS said staff at Hull and East Yorkshire Hospitals NHS Trust were ridiculed, called derogatory names and had pens thrown at them.
Chief executive Chris Long said the report made "uncomfortable reading" and bullying would "not be tolerated".
Concerns were first raised by the Care Quality Commission in February.
The watchdog ordered the Trust to investigate claims that staff felt bullied.
A report published earlier by ACAS found staff at Hull Royal Infirmary and Castle Hill Hospital were subjected to "aggressive behaviour" including "the banging of fists, tutting, rolling of eyes and being pushed or prodded".
'Thing of the past'
Others said they had hands held up at their faces to stop them speaking.
There was also a "strong feeling" of cliques in the workplace, with "in groups" being given preferential treatment over "out groups".
In many cases staff said they were too frightened to make complaints.
Mr Long said he wanted to make bullying at the hospitals a "thing of the past".
"I have a very clear message to our workforce: bullying, intimidation, harassment and other such behaviours will simply not be tolerated," he said.
"The ACAS report makes uncomfortable reading at times, but I am very much focused on making the issues it raises a thing of the past.
"Together with our staff side representatives, we will be working to ensure our staff feel safe at work and that everyone understands the behaviours we expect of them."
'Overwhelmingly sad'
The Trust will now work with trade unions to address the issues including the establishment of an anti-bullying group.
Ray Gray, from Unison, said they had been raising concerns for the last couple of years.
He said: "It's overwhelmingly sad. There's some comments in there from the interviews where you can't help but be moved.
"To think people come into work to get that kind of treatment just can't be justified.
"It's sad it's taken this long to get to the point where someone's listened and doing something about it."
Phil Morley, who had led the Trust since 2010, resigned as chief executive at the end of April, citing personal reasons.
Mr Long took up the post in September.