Bridlington man killed by falling masonry named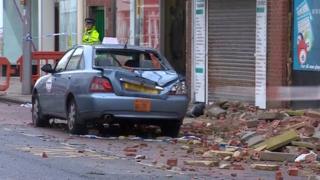 A 61-year-old man who died after being hit by falling masonry has been named.
Robert Young, from Bridlington, was killed after a section of building collapsed on top of him near to the Pleasureland amusement arcade in Cliff Road, in the town, on Monday.
An investigation into the cause of the collapse is underway. Humberside Police said the road will remain closed while a structural inspection takes place.
A post-mortem examination is due to take place later.
The local authority has said it is assessing the privately owned building.
'Absolutely awful'
According to the Met Office, a strong gale with gusts of up to 48mph was recorded in Bridlington at the time of the incident.
Taxi driver Neil Dean, who witnessed the collapse and whose vehicle was also struck by falling rubble, described the incident as "terrifying".
He told the BBC: "It was like somebody had just dropped something out of the blue. There was no warning, no nothing.
"Then I just saw this man fall down beside me. The man was just walking past.
"I could see the bloke was dead. There was no way he could have survived that at all.
"It was awful, absolutely awful. I was very, very lucky to be alive."