Gaul sunken trawler: Russian bodies not ship's crew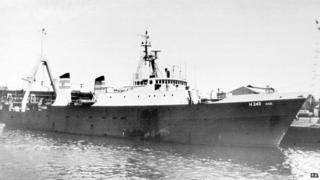 Tests on bodies found in Russia show they are not members of the crew of the Hull trawler Gaul, which sank in 1974.
The fishing vessel went down in the Barents Sea off Norway with the loss of 36 men.
Russian authorities had carried out tests on a number of bodies found buried on the Rybachy peninsula.
Humberside Police said it had been told that DNA tests showed the remains "most likely belong to the Northern Russian or Finno-Ugric population".
Police officers were preparing to travel to assist in the investigation but the force said "at this time, the news from Russia concludes our involvement in the matter".
Angry relative
Steve Holmes, the nephew of crew member Karl Straker, said he was unhappy that UK authorities were not involved in the testing process.
"I'm angry," he said. "They're just taking their word for it. They were originally going to be sending a team across there to assess the DNA and to basically verify it and now they are not going to do that. The fact is we just want somebody to verify it."
The human remains were believed to have been washed ashore sometime in 1975 and were buried by locals under rocks on the peninsula close to the Barents Sea.
The Marine Accident Investigation Branch carried out surveys of the Gaul after the wreck was found in 1997, and the remains of James Wales, Maurice Spurgeon, Stanley Collier and Clifford Briggs were found in 2002.
The bodies of the other crew members remain missing.
An inquiry in 2004 concluded the ship sank because its hold became flooded during a storm.