Lost Hull WW1 trawler could be heading home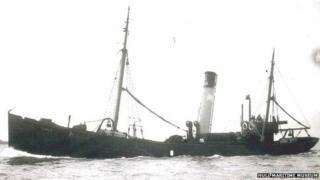 Plans to bring a derelict World War One trawler back to its home city of Hull have moved a step closer.
The rusting remains of the Viola lie on a beach 7,750 miles away on the island of South Georgia in the South Atlantic.
A team of maritime engineers is on its way to the island to see if the ship could be brought back to Hull and restored as a tourist attraction.
The cost of the £10,000 survey is being met by donations from local marine companies.
Dr Robb Robinson, from the University of Hull, has campaigned to bring the Viola home for more than 10 years.
He described the survey expedition as "wonderful news".
"It sailed from Hull in September 1914 with a largely Hull crew, off to war and was involved in sinking two U-boats and various other encounters and has yet to return from that voyage," he said.
'Grim battle'
Named after a character in Shakespeare's Twelfth Night, the Viola was built in Beverley in 1906 and worked as a trawler in the North Sea.
It was requisitioned by the Admiralty in 1914 to hunt U-boats and sweep for mines.
After the war, the ship worked mainly as a seal-catcher, but also as a support vessel for a number of scientific expeditions.
Dr Robinson said the role of civilian crewed trawlers in World War One had been overlooked by historians.
"Some 3,000 fishing vessels were requisitioned and they fought that grim battle against U-boats and mines," he said.
"We hear very little about that, but had we lost that war then our ability to wage the whole First World War World have been compromised, because we would have been starved of supplies."
If the survey is positive, the next stage will be negotiating with the South Georgian authorities, who own the wreck, and raising the estimated £300,000 to transport the Viola to Hull.