American arrested over cyanide death of Hull man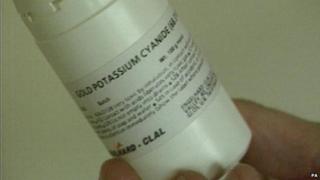 A man from the US has been arrested for allegedly selling cyanide to a Hull man who later killed himself.
Andrew Denton, 49, was found dead in Holland Street in December 2012.
His blood contained cyanide and detectives found a series of online exchanges between Mr Denton and a man in the US.
On Wednesday, Sidney Kilmartin, 52, was arrested in Maine, New England on federal charges that he mailed a poisonous chemical.
Humberside Police said Mr Kilmartin had used a pseudonym when he offered Mr Denton potassium cyanide for sale and advice on how to take it.
The case was handed over to the US Postal Inspection Service.
Postal Inspector Michael Desrosiers came to Hull in June and spoke to witnesses.
He said: "In my 28 years as an inspector I have never come across potassium cyanide being mailed and it is even rarer that it has led to a homicide."